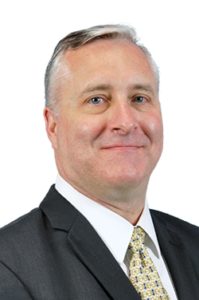 Jeff Detwiler
Vice President, Program Management
Jeff Detwiler is the vice president of program management for Thales Defense & Security, Inc. (TDSI). In this position, Mr. Detwiler oversees the successful management and delivery of products for all TDSI programs. Prior to this role, Mr. Detwiler performed as the director of program management for the TDSI Communications business line. He also served as the product line manager for the Thales AN/PRC-154 family of handheld tactical radios, a multi-faceted role that encompassed overall product management, product roadmap definition and planning, marketing, and new business development.
Mr. Detwiler joined TDSI in 1999 as a subcontracts project manager, and has since served in management positions of increasing responsibility, achieving over 20 years of program management, product development, and business development experience. Responsibilities have also included oversight for the related test engineering and production functions, as well as managing overall technical, administrative, and fiscal performance on tactical communications programs.
Mr. Detwiler holds a master's degree in business administration from the University of Maryland and a bachelor's degree from Wilmington College.