Situational awareness is critical. Aircraft flight and mission-critical data are essential to the effectiveness and survival of every pilot. Assimilating quickly to such data and reacting instantly and accurately is no small feat at aircraft speeds and varying altitudes, over diverse combat terrains and in changing weather conditions, amid hostile and friendly targets, and under night-time c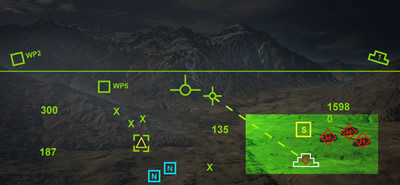 onditions.
Scorpion – the world's first, full-color Helmet Mounted Cueing System – is designed to unleash every pilot's potential no matter the time of day. The 24/7 system, which is the most capable and lightest weight "head out of the cockpit" display fielded today, is designed, engineered and manufactured by Thales Visionix to fit any flight helmet platform and to seamlessly integrate with Night Vision Goggles, as well as protective visors and oxygen masks.
Scorpion's dynamic design allows every pilot to create his own cockpit, choosing from a variety of Scorpion features that allow for the personalization and prioritization of data displayed. The crisp, bright, see-through Scorpion Display Module is the focal point of the HMCS, which installs rapidly and completely within the cockpit. There is no need for a pilot to continuously scan and interpret all of the "heads down" data amidst the aircraft instrumentation and displays. All necessary data is available to the pilot in a virtual Heads Up Display (HUD) with 360⁰ x 360⁰ conformal color symbology that is overlaid onto the "real world."
Every pilot realizes a distinct performance edge with Scorpion. Being able to constantly assimilate, evaluate and react to data, translates to faster reaction time and greatest war fighter effectiveness.