MANET Handheld Radio
Small Form Factor Radio with TSM™ Waveform
AN/PRC-170 Javelin is a rugged, small, and lightweight single-channel radio that provides Warfighters with tactical command and control communications in a variety of challenging radio-operating environments. Using the TSM waveform, AN/PRC-170 Javelin provides wideband MANET coverage, regardless of the environment, and superior voice and data communications across harsh multipath and highly dynamic environments, such as shipboard, caves and urban operational settings. AN/PRC-170 Javelin is interoperable with the IMBITR 2-channel Leader Radio, and other third party radios running the TSM waveform.
Capabilities
The AN/PRC-170 Javelin, like the namesake spear used by the Romans, provides the soldier
with a highly effective radio alternative to other heavier and more complex solutions today. The
AN/PRC-170 Javelin radio system is the smallest, lightest and longest running (up to 70 hours)
TSM radio providing the soldier with critical tactical communications.
Operational Advantages:
Simultaneous voice, PLI and data via the TSM Type 3 AES encrypted waveform.
Only single channel TSM with onboard audio.
Extended operational hours via broad range of battery options.
Simplest fielded configuration – no additional adapters for integration with NW.
Integrated power management supports direct cable connection to the Integrated Tactical Network (ITN) tactical components (EUD/headset and battery solutions)
The AN/PRC-170 Javelin is currently providing soldiers with 30+ hours of operational run time within the Army's fielded
ITN. With built in flexibility, operational run times of up to 70+ hours are possible. Reducing the soldier load and
optimizing run time is critical to providing the best solutions to dismounted operations.
Key Features
Simultaneous Voice, PLI and Data Transport
Embedded GPS
Type-3 AES 256 Encryption
Supports UHF, Upper UHF, L and S Band Communications
Future Waveforms: NB Voice
32 Talk Groups
Integrated Nett Warrior Power and Data Connector
Removable/Re-chargeable Battery
Rechargeable Lithium-Ion 3.5 Ah
Compliant with the Universal Battery Charger (UBC) Family of Tactical Chargers
Physical Parameters
Length: 5.2 inches (13.21 cm) (excluding antennas)
Width: 2.6 inches (6.60 cm) (with battery attached, excluding antennas)
Depth: 1.8 inches (4.57 cm)
Weight: 1.25 pounds Radio and Battery (567 g)
Environmental Specifications
Operating Temperature: -31° to +55° C
Storage Temperature: -33° to +71° C
Immersion: 2M
Waveforms/Modes of Operation
TSM
Infrastructure-less MANET
High-speed wireless IP networking
Self-Forming, self-healing
Scalable to 200+ nodes
Robust in harsh environments
Fast, seamless network join/merge
Instant adaptation to network topology change
Wideband Channel
Transmit Power: Up to 2 watt
Operating Frequencies: L-UHF: 225–450 MHz, U-UHF: 698–970 MHz, L/S Bands: 1250–2600 MHz
Network Throughput: up to 16 Mbps
Encryption Security: AES-256
Dedicated PTT Voice Channels: supports up to 32 talk groups, AMR 5.9 or MELPe
Occupied Bandwidth: 1.2–40 MHz
Net entry time <1 sec
Supports up to 8 hops for voice and data
Scalable to 200+ nodes in a single RF channel
Multiple simultaneous streaming videos
Position Location Information (PLI) support with Cursor-on-Target (CoT)
OTA Remote Control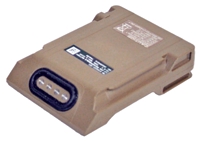 Size: .94 x 2.48 x 3.5 inches
Battery cell count: 3
Operating time: 10–12 hours
Part number: 4103231-501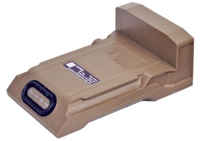 In Development
Size: 1.67 x 2.7 x 4.34 inches
Battery cell count: 3 (adapter
only) or 9 (used with 6
cell battery)
Operating time: 10–12 hours
(adapter only); 30–36 hours
(with 6 cell battery)
Part number: 4103240-501
Conformal Wearable
Battery (CWB)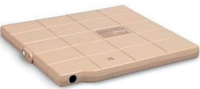 Size: .07 x 7.60 x 8.70 inches
Operating time: 28–34 hours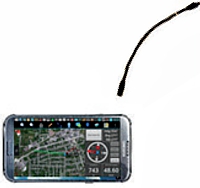 Adapter (no cells)
and 148 Battery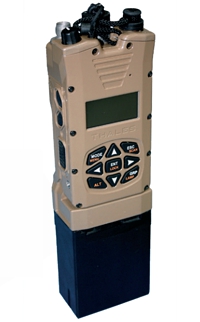 Size: 1.67 x 2.7 x 4.34 inches
Operating time: 20–24 hours
Part number: 4103258-501